Where We Live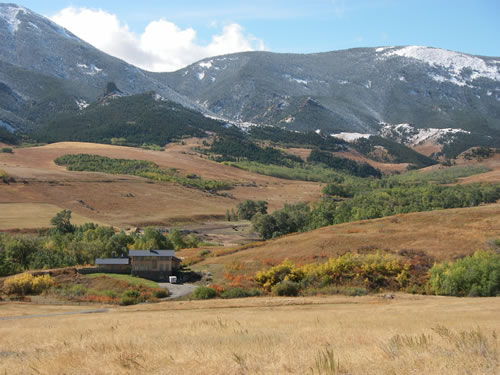 Saddle Butte Ranch is located in central Montana on the east side of the Highwood Mountains about 65 miles east of Great Falls. The Highwoods are one of the outlying mountain ranges that jut up in the eastern Montana prairie. Known as "island ranges" these mountains possess a completely unique ecosystem as differentiated from the surrounding grasslands. We live in a mountain valley blessed with numerous springs, excellent grasses, in an area known for the warming effects of "Chinook winds" which melt the snow making winter grazing possible. There is no better cattle country in Montana.
Since our pastures fall from evergreen forest to short-grass prairie, a remarkably diverse environment supports not only our Angus cows but also almost every kind of game animal and game bird that lives in Montana. It has always amused me, when fixing fence, to discover mountain goat hair in the barbed wire! Our cows do not live off irrigated pasture. We have raised cattle here since 1990. Our registered cows receive no more attention or feed than do our neighbors' commercial cattle. We consider drought, blizzards—in fact any limitation of the soil or the weather—to be complementary to our efforts to raise an adaptable, efficient herd of Angus cows.
Directions
From Great Falls Airport
Exit on 10th Avenue South and drive through Great Falls.
Airforce base on the left as you leave town. You will see the HighwoodMountains ahead on the left. It is a 45 mile drive to Geyser. You will pass Belt on the left, then Raynesford on the left and finally at the base of a 6 mile long hill, Geyser.
From Geyser
Turn left into Geyser on Route 551.
Cabin Creek Bar on left and Annie's Grocery on right.
Drive through town and note mileage as you cross the railroad tracks.
You will be approaching the Highwoods and Round Butte and Square Butte out to the right of the mountains where you want to go.
At 2.6 miles the pavement turns to gravel.
At 4.2miles be sure to stay right; do not take the road to Thain Creek campground.
At 9.2 miles you pass Merrimac Cattle Co. on the left.
At 11.1 miles missile silo on the right.
At 16.7 miles the Strand Ranch entrance on the right.
1 mile past the Strand entrance you will cross a plank bridge across Cottonwood Creek.
About one-half mile past the bridge, at the 18.1 mile mark, turn left on to Cottonwood Creek Road.
At 20.1 miles you approach our gate.
Go on past the trailer house to the barns and up the hill 150 yards, turning right along the dam of a pond to the house.