What's Next?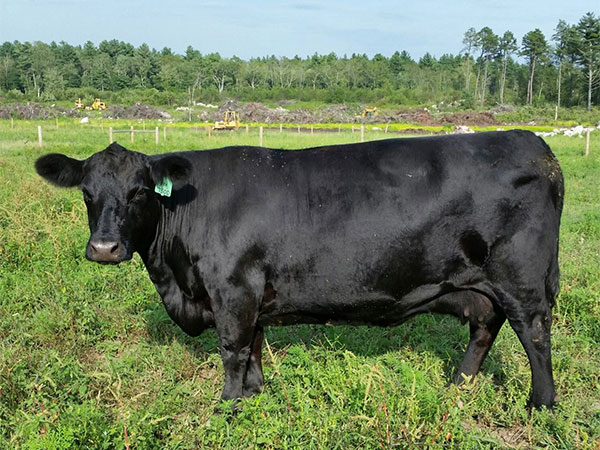 Photo of Dunlouise/SCC Ruby 750D, a daughter of Ruby 5th of Newcroft sired by Dunlouise Evesund Y069
We just implanted 20 embryos of Ruby 750D, a joint project with Torrey Ball of Grassroots Cattle Co. of Hutchinson, Kansas. This will give us females of the nearly extinct Erica, Cherry Blossom, Kindness Pride and Ruby families of native Scottish Aberdeen Angus genetics. In 2018 we should have around 50 native Scottish females.
This year's calving went off better than in recent years in large part to the efforts of two intern sisters who not only worked hard-they also played the flute and violin to expectant mothers! The average birth weight of all calves born in 2017 was 73 pounds. The calves of first calf heifers averaged 68 pounds.
We will be collecting two native Scottish bulls this summer: Jipsey Jack and Karma of Saddle Butte whose first daughter's calves averaged 60 and 67 pound birth weights respectively. Consider these bulls for a heifer A.I. project. For cattlemen pleased by the results of breeding to Dunlouise Jipsey Earl, an interesting project would be to breed Jipsey Jack to those daughters, since Jipsey Earl and Jack share the same dam, Dunlouise Jipsey Clova.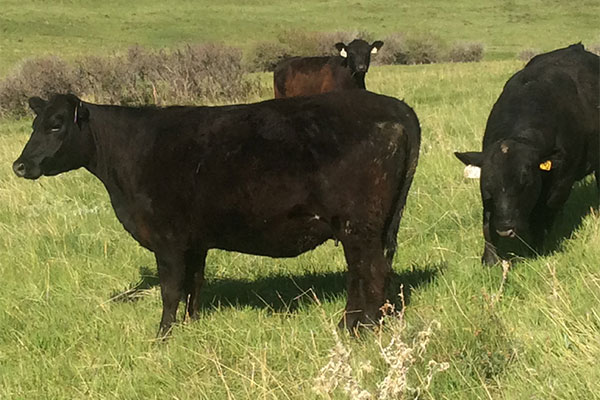 Daughter of Jipsey Jack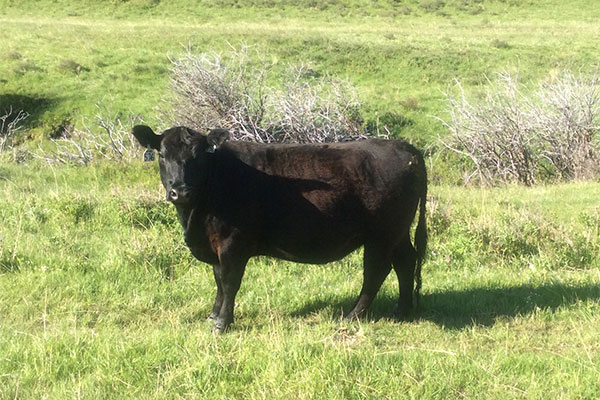 Daughter of Karma
We have been using native Scottish Aberdeen Angus bulls exclusively with the result that the % of Scottish blood in the young cows ranges from 1/3 to 2/3's of their pedigrees. We find that the most productive cows in our herd combine Scottish and New Zealand blood, as proven by this year's sale bulls who weighed between 680 and 700 pounds at weaning. (Look at their photos and pedigrees on the Sale Animals page.) For a commercial cattleman afraid to stray too far from his present breeding program, we recommend our Scottish/New Zealand bulls bred in a ratio of 2/3's Scottish, 1/3 New Zealand in their immediate pedigrees. Weaning weights will not suffer and replacement females will improve the herd.
But for the most immediate results use a pure native Aberdeen angus bull to develop the phenotype we all talk about - deeper heart girths, wider backs, stronger hind quarters and heads that speak of class! We will have Cup Bearer and Roberto sons to choose from as well as sons of our own native bulls.
For the first time we will offer heifers for sale this fall along with a select list of proven cows. Keep in mind that, rather than looking for bulls in the spring, some cattlemen choose bull calves by their dam's side in September in order to get first shot at the bull crop.
For now, we are off to the World Angus Conference held in Scotland this June!